Posts Tagged 'Miguel Ors'
Sorry, this entry is only available in Español.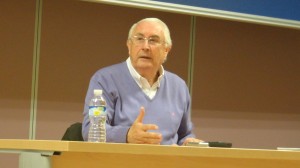 Gambín Santiago, the voice for many years accompanied the changes in ElcheCF Martinez Valero, has given a talk at theAula4 of Atzavares on local sports journalism students of 4 th degree.
The veteran broadcaster has revealed changes in the world of football in recent years. Although stressed that many errors are repeated in history, such as the departure of shareholders, "Juan Carlos Ramirez is not just another bird that has taken ElcheCF, has gotten into the cage podium, and when he plucked completely and opens the cage to go. the difference is that courtsare now using, "said Gambino.