Posts Tagged 'la verdad'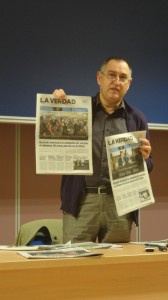 The delegate in Elche's Daily Truth has closed the school day conference on Wednesday with a talk on the production process of a local newspaper.
Macia pointed out that over all meetings of the agenda and allocation of items, the most important in the creation of a local edition, is the meeting where a hierarchy of headlines. He also highlighted that now also included in the forecasts highlight the topics on the web, "in the forecast will decide what news photo and also what video".
For the local representative of this newspaper, the work of a journalist should be 24 hours a day. "You have to kick the street," and added, "can not be done without leaving a paper writing" in reference to the transcript of the press releases. Also believes that the "press conferences are not the end but the means" because the book mark it themselves and not "external agents or the central delegation" and has qualified.
As for the future of journalism, Macia has predicted that the press will not disappear, but will evolve, "the journalist is becomingcoach of ideas and we must avoid falling into the chaos of social networks where everything is taken for valid" .