This year we celebrate the VII International Journalism Conference in the Aula Magna of the Altabix edifice (Miguel Hernández University). Under the title "Mutant Journalism", the conference deals about the new profiles for media transformation.
In this seventh edition we have the presence of characters closely linked to digital journalism as Luis Collado (Google News and Google Books director in Spain and Portugal), Albert Montagut (journalist and ADN former director), and Juan Varela (periodistas21.com author). You can see the full program here: VII Jornadas Internacionales de Periodismo
This International Conference brings news participation formats based on feedback. First, any student or interested in the conference may participate in a open colloquium through the #jpumh hashtag in Twiiter. In addition, we introduce a new interview format: 6 journalism students will interview Albert Montagut.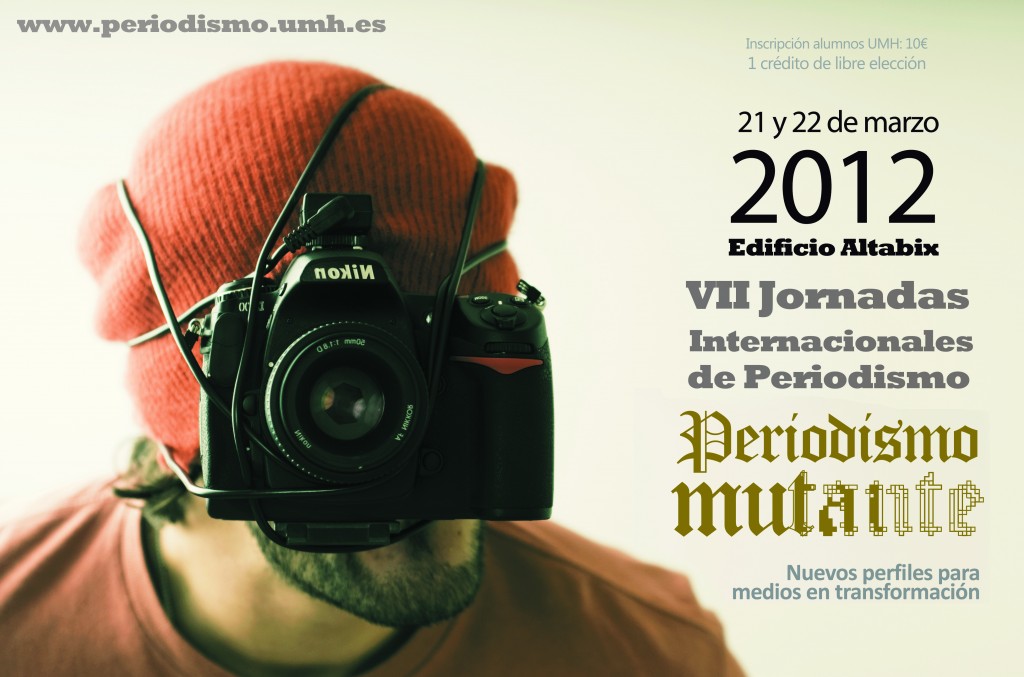 Prices:
General public: 30 euros
Members of Asociación de la Prensa de Alicante: 20 euros
Students and alumni of the Miguel Hernández University: 10 euros
For students: 1 free elective credit
Mode of payment: you must be done through  www.umh.es/recibos – "Congresos, Jornadas y Conferencias" / "Jornadas de Periodismo".
Contact and  information: Secretaría Facultad de Ciencias Sociales y Jurídicas.
Avda. de la Universidad s/n, Elche – 03202.
Phone: 966 658 792
Director: Sergio Martinez Mahugo
You can see the full program here: VII Jornadas Internacionales de Periodismo