III Internacional Congress CICAP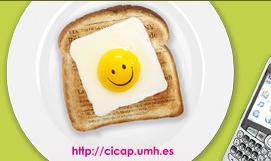 The next 9, 10 and November 11 will be held the Third International Congress of Audiovisual Communication and Advertising, entitled Design, Creativity and Information.
The objective of this event is to clarify concepts, reflect on communication and information and discovering new ways to communicate and inform, all from a visual perspective.
Registration is open to the entire university community, particularly students of Journalism at the UMH. The conference will feature several workshops taught by professionals in the world of social media and journalism 2.0, and a series of papers on web design and creativity in the world of information.
More information and registration at the Congress website through Tuesday, 8.