Entrades Etiquetades 'mass media'
Ho sent, però aquesta entrada només està disponible en Español.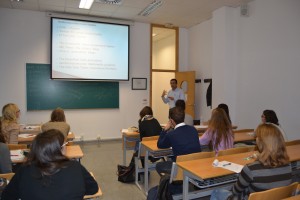 The II International Journalism Seminar was held today. On this occasion, Professor of Journalism Jose Alberto García Avilés spoke about the emergence of new technology in traditional media at the conference: 'Innovation in the media: from The New York Times to Twitter TV'
García Avilés explained the most important innovations introduced by international media companies, to renew the production of news, collaboration with users and the development of new narratives. The conference analyzed several cases of innovation in journalism, online media such as graphic designing in LaInformacion.com, the user comments in The Economist, research databases from The Guardian or the I-Report program aired on CNN.
In the seminar, organized by the ​​Journalism Area of he Department of Social Sciences and Human Sciences, participate 25 Journalism students of  with a high level of English, to discuss the developments in the field of communications and the media landscape in various European countries.
The next meeting will be Wednesday December 14th at 12.30pm in Torreblanca and as borne by the journalist Carl-Georg Boge, director of www.costa-info.de